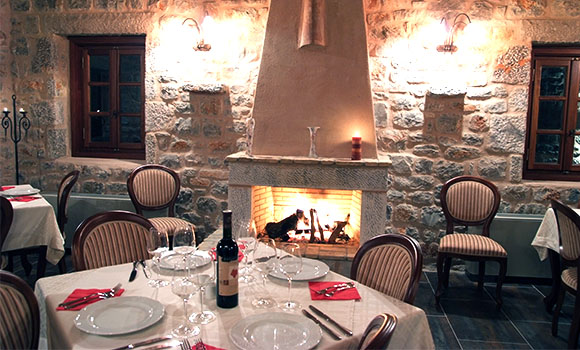 Greek  and international cuisineRestaurant
In the main restaurant of our hotel you can savor a rich  breakfast buffet, as well as the exceptional Greek and international cuisine offered during lunch and dinner.
You will find our distinctive luxury even in the finest detail unforgettable. Our unique unobstructed view of the sea in the summer and the warmth of the fireplace in the winter will accompany you in the most pleasant moments of your life.

Smyros Resort brings to reality  the vision of a luxury hotel complex in a heavenly destination, ready to offer to its visitors  an  exceptional, 4 star atmosphere.
We combined the rough beauty of the stone with the traditional architecture and we created seven stone complexes of unique aesthetics. Medieval arches, underground tunnels, crypts, marble balconies, wine cellars and a chain of stone stairs bring fantasies of older times.
The combination of the austere simplicity of the stone of Mani, the luxurious structure and the refined decoration of the rooms impresses every visitor with its unparalleled aesthetic and its unique functionality. We took special care of the uniqueness of  every room with emphasis in detail…
Enjoy the sun and the vast view of the sea at our swimming pool, savour the traditional flavous of the region, relax at our bar and  indulge yourself in the romantic reflection of the moon in the silver waters of Aegean
RELAX AT OUR SWIMMING POOL
You can take advantage of the impressive, big swimming pool and wander in the evergreen gardens or participate in one of the many tours that our staff can organize for you.
In the hot summer nights enjoy unique moments in the  cool oasis in our outdoor spaces of our swimming pool and the gardens.
The unique view of the serene sea, seen from the swimming pool will take your breath away and will make you feel that you are in a dream environment.
The bar in the swimming pool offers a light dinner or  a drink while you relax in the invigorating water of the swimming pool or you can enjoy the unique sunset over the sea.
The unique stone covered paths and walkways that traverse the Smyros Resort complex through medieval arches and underground tunnels is recommended for endless walks  and relaxing strolls. The discreet night lights will fascinate you and will transfer you to magical worlds. Wander in the green gardens, walk in the picturesque port in the entrance of the complex and explore the paths that lead you to graphic and secluded beaches.